Carbon Monoxide
Carbon monoxide is a toxic gas referred to as the "silent killer" because it is:
colourless
odourless
tasteless
Breathing carbon monoxide is dangerous. It affects your blood's ability to get oxygen to your body. If you are exposed to a high concentration of carbon monoxide, you may develop carbon monoxide poisoning which can lead to loss of consciousness, brain damage and even death.
Symptoms of carbon monoxide poisoning
Signs that you have been exposed to carbon monoxide and may have carbon monoxide poisoning include flu-like symptoms such as:
headaches
nausea
dizziness
confusion
drowsiness
What causes carbon monoxide?
Carbon monoxide is produced when devices and appliances don't fully burn their fuels. It can come from anything in your home that uses:
propane
wood
heating oil
natural gas
charcoal
kerosene
gasoline
When these devices or appliances are used and installed properly, carbon monoxide gas will be vented to the exterior of your home.
Problems happen when carbon monoxide can't escape and levels become too high. Common reasons for these unsafe levels include:
running a vehicle in an attached garage
operating a gas barbecue indoors
clogged or dirty chimneys and vents
portable heaters improperly vented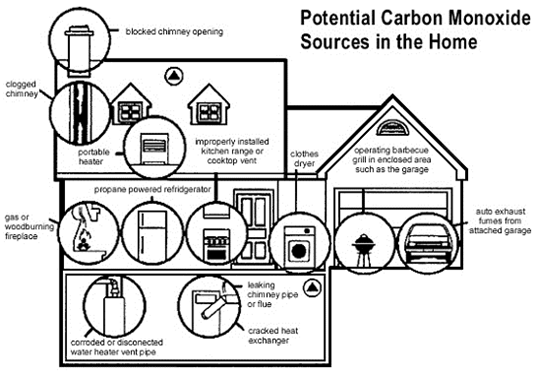 Danger signs of carbon monoxide
If you or a member of your household experience any of the symptoms listed above, you may have been exposed to too much carbon monoxide. Other signs to look for include:
a gas smell like rotten eggs inside your home
chalky white powder accumulation around vents and pipes
soot build-up around exhaust vents
How can I detect unsafe levels of carbon monoxide in my home?
Only working carbon monoxide alarms, properly installed in your home, will provide you with an early warning of unsafe levels of carbon monoxide in your home.
Where should I install carbon monoxide alarms?
A carbon monoxide alarm is required by law to be installed on every level containing sleeping rooms if your home has:
any fuel-fired appliances (natural gas, propane, fuel oil, wood); and/or
an attached garage
When installing your carbon monoxide alarms, you should:
put one on every floor where people sleep
put it close enough to the sleeping rooms to be able to wake you up
install more than one if sleeping rooms are at separate ends of the building
plug it in an electrical outlet or install it on the ceiling like a smoke alarm
always follow the manufacturer's instructions
What should I do if my carbon monoxide alarm activates?
Never assume it is a false alarm. Remember, carbon monoxide is colourless, odourless and tasteless.
If your carbon monoxide alarm activates and anyone in your home has symptoms:
evacuate your home and call 911 from a safe location
do not re-enter your home until advised it is safe to do so
contact your gas utility if there is also a smell of natural gas or propane (rotten egg smell)
If the alarm activates and no-one has any symptoms:
check to see if the battery needs replacing or the alarm has reached its "end-of-life"
if the alarm is not sounding for those reasons, call 9-1-1
Testing your alarm
To make sure you will be alerted if you have too much carbon monoxide in your home, follow these rules when testing your alarm:
test your alarm every month (or according to the manufacturer's instructions)
replace the batteries once a year or when the low-battery warning sounds
know what your alarm sounds are for low-battery warning, end-of-life warning, and an emergency alarm by reading the manufacturer's instructions
Landlords and tenants
Landlords:
Landlords are responsible to ensure working carbon monoxide alarms are installed and maintained in their rental properties.
The law requires landlords to test CO alarms in rental units annually and when the battery is replaced, changes are made to the electric circuit or a change in tenancy occurs. CO alarms must be tested by pressing the test button. Tenants must provide CO alarm manufacturer's maintenance instructions to tenants.
Tenants:
The law requires tenants to notify the landlord if the CO alarm is inoperable. It is against the law for tenants to remove the batteries or tamper with the alarm in any way.
Additional safety tips
Prevention is the key to saving lives. Carbon monoxide alarms are the second line of defence in the fight against carbon monoxide poisoning.
Be sure your carbon monoxide alarm has been certified to the Canadian Standard Association (CSA) CAN/CGA 6.19 standard or the Underwriters Laboratories (UL) 2034 standard.
Regularly maintained appliances that are properly ventilated should not produce hazardous levels of carbon monoxide.
Have a qualified service professional inspect your fuel burning appliance(s) at least once per year.
Have your chimney inspected and cleaned every year by a W.E.T.T. certified professional.
Visit the Technical Standards and Safety Authority website for more heating safety information.
Smoke alarms
Every home in Ontario must have a working smoke alarm on every story and outside all sleeping areas.
It's the law. Failure to comply with the fire code smoke alarm requirements can result in tickets and substantial fines for individuals and corporations.
Installation
You must install and maintain smoke alarms on every story of your home and outside sleeping areas.
When installing smoke alarms, refer to the manufacturer's instructions for information about correct placement.
Do not install smoke alarms:
in or next to kitchens or bathrooms
near air vents
near windows
near ceiling fans
These locations will result in too many "false alarms" and can make you learn to ignore the alarm.
If your smoke alarm frequently activates when you're cooking, do not remove the battery. Ever. Instead, consider moving the alarm to another location or replacing it with a photoelectric unit.
Testing
Test your smoke alarms every month using the test button.
Battery
We recommend changing your battery every six months when it's time to change your clocks. This includes batteries in all smoke and carbon monoxide alarms. Remember to test the smoke alarm after installing a new battery.
Replacement
Smoke alarms don't last forever. They are required to be replaced within the time frame indicated by the manufacturer. This is usually ten years.
When replacing interconnected smoke alarms, it is advisable to replace all units in the system at the same time. If you need to replace a single malfunctioning alarm, make sure the new alarm is compatible with the existing units.
Landlords
It is the responsibility of landlords to ensure their rental properties comply with the law.
Tenants
If you are a tenant of a rental property and do not have the required number of smoke alarms, contact your landlord immediately. It is against the law for tenants to remove the batteries or tamper with the alarm in any way.
Fire Prevention Week in October
The goal of Fire Prevention Week (FPW) is to raise public awareness about fire safety. It is held each October during the week of October 9th. Each annual theme is chosen by the National Fire Protection Agency (NFPA)
Tips for Children
9-1-1 for Children
Teaching your children how to use 9-1-1 is crucial and could save their lives or yours. Here are four simple steps for teaching your children of any age how to use 9-1-1:
First explain what 9-1-1 is and that it isn't a joke or for pranks.
Teach them to assess the risks before dialing 9-1-1. Can they call right away or do they need to move to a safer place?
Explain what type of information to give once they have called 9-1-1.
Practise pretend situations with them to make them more familiar with the concept without frightening them. Find scenarios to practise on the Government of Canada's Get Prepared website.
Stop Drop and Roll
Stop, drop, and roll is the quickest way to smother the flames on our bodies and lessen the burn injuries. Children of all ages can be taught what to do if their clothes catch on fire:
STOP what you are doing
DROP to the ground
ROLL over back and forth covering your face and mouth with your hands
By practising together, you can equip your child(ren) with the reflexes they might need in an emergency situation.
Sleepover Fire Safety for Children
If your child is planning to sleep over with a friend, make sure the home is safe from fire. Before you say "yes", ask these questions:
Are there working smoke alarms on every storey and outside each sleeping area?
Will the children be supervised throughout the stay?
Do they have a home fire escape plan that includes two ways out and a meeting place outside?
Are there two escape routes from the room where your child will be sleeping?
Will the parents walk through their escape plan with your child?
Are the parents cautious with smoking materials, matches and lighters, and candles?
If the home has security bars, do they have quick release devices inside so your child can get out in an emergency?
If you are hosting a sleepover, take time to reassure the parents of your guest(s) that you have all of these items covered and will review them with the child(ren) upon arrival.
Student Accommodation Safety
When college and university students are on the move, fire safety might not be top of mind. These two guides provide important information for parents and students:
Tips for the Elderly
Fire Safety for People with Alzheimer Disease
People with Alzheimer Disease or other dementia are extremely vulnerable to serious injury, or even death when fire or other emergencies occur in their home. The following information provides caregivers with important fire safety information that can help them to provide a safer environment for persons with Alzheimer Disease - and those who live with them.
Medical Oxygen Safety
There are unique fire and safety risks associated with the use of medical oxygen in the home. Follow these eight rules to prevent an oxygen related fire:
Do not smoke or let anyone else smoke where medical oxygen is in use or stored. There is NO safe way to smoke in the home when oxygen is in use. This includes all types of tobacco and non-tobacco smoking products including electronic cigarettes.
Post NO SMOKING signs, one at the entrance to the home and one in the room where the oxygen equipment is in use and/or stored.
Spark or friction-generating equipment such as friction toys, grinding tools, electric shavers, hair dryers, etc. should not be used while using oxygen or in the presence of the oxygen equipment.
Keep oxygen cylinders at least 1.5 meters (3 feet) from heat source, open flames or electrical devices.
Devices with an open flame shall not be used in the home.
Body oil, hand lotion and items containing oil and grease can easily burn. Keep oil and grease away where oxygen is in use.
Petroleum jelly, oily lotions, face creams, or hair products should not be used when using oxygen. Keep hands oil-free when handling oxygen equipment.
Aerosol sprays containing combustible materials should not be used near oxygen equipment or while using oxygen.
Forest and Wildland Fires
Wildfires are capable of spreading at an astonishing rate. Forest fires can spread through the crowns of trees at up to 15 kilometres per hour.
In Ontario, wildfire is a natural phenomenon. Over the last several centuries, large areas of Ontario have been burned over repeatedly. Lightning is considered the only natural cause of wildfires. However, 90%of all wildfires that start within 3 km of our communities are attributed to human activity.
On average, over 1,200 wildfires are started in the province each year consuming over 200,000 hectares of forested land annually. Sometimes families have been evacuated from their communities and homes and cottages have been destroyed.
If you live in or near a forested region, you're living in an area often referred to as the "Wildland Urban Interface" and sooner or later, you may have to contend with the threat of a wildfire. The best protection against loss, damage or injury due to wildfire is prevention. But there are also things you can do to reduce the risk of loss or damage to your property in the event of a wildfire.
Learn how you can reduce the risk of forest and wildland fires.
The Ontario Fire Smart webpage has lots of pertinent information on how residents can reduce the risk of forest and wildland fires.
Home and Farm Fire Safety
Kitchen and cooking fire safety
Unattended cooking is the number one cause of home fires in Ontario. Follow these fire prevention and safety rules for the kitchen:
be alert: don't cook if you are sleepy, have consumed alcohol, drugs or medicine that makes you drowsy;
always stay in the kitchen while cooking. If you must leave, turn off the stove;
keep anything that burns away from the stove, e.g. oven mitts, cooking utensils, dish cloths, paper towels, pot holders, etc.;
keep a proper-fitting pot lid near the stove when cooking. If a pot catches fire slide the lid over the pot and turn off the stove. Do not move the pot until it has cooled completely;
do not wear loose-fitting clothes when cooking because they can catch fire on the stove burners. Wear short sleeves, tight sleeves or roll them up when cooking.
Grease fires
Cooking with grease can be dangerous because the grease can easily catch fire if it gets too hot. Grease fires spread quickly and must be handled differently than normal fires.
never turn on the overhead fan, as this could spread the fire
never throw water on a grease fire
Here's what to do if grease in a pot or pan catches fire:
Smother the flames by covering the pan with a lid. Do not remove the lid until the pan is completely cooled.
Turn off the heat immediately.
Use baking soda (flour can be explosive) on shallow grease fires.
Dryer Fire Safety
Dryers create a lot of heat and can easily set fire to lint that collects in the trap, ducts, and vents. Follow these rules to prevent fires in the laundry room:
When installing
have your dryer installed and serviced by a qualified technician; or
follow the manufacturer's instructions before installing the dryer vent if you are doing the job yourself
Always
follow the manufacturer's instructions regarding the safe use of the dryer
inspect and clean the lint screen after each load of laundry
remove lint from ducts and exhaust vents regularly
inspect the outdoor vent regularly to make sure it is not blocked
turn the dryer off if you leave home or when you go to bed
keep the area around the dryer clear of items that can burn
Electrical Fire Safety
Unsafe use of electricity can be very dangerous and an electrical fire can happen at any time. Some of the warning signs that you might have an electrical fire hazard in your home include:
recurring blown fuses or circuit breakers point to a fault in your home's electrical system
a burning smell or rubbery odor from an appliance
discoloration of wall outlets
flickering lights
Follow these safety rules to prevent electrical fires in your home:
Fuses and circuit breakers
follow-up when a fuse or circuit breaker blows: don't just reset the breaker or replace the fuse, find out what caused the problem
do not replace a fuse with one that has a rating higher than required
do not plug more than two operating appliances into the same circuit
Appliances and equipment
purchase appliances that are approved by the Canadian Standards Association or ULC: appliances without CSA/ULC approval could be unsafe
keep heat generating appliances at least 1 m away from anything that can burn
unplug small appliances like toasters and coffeemakers when you're not using them
be aware that heat generating appliances draw more power than others
make sure there is lots of ventilation around electronic components that generate heat, such as TV's and audio equipment
do not use an electrical device or appliance that has been exposed to water until you have had it checked thoroughly
Lighting
put lamps on level surfaces, away from curtains or other flammable items
use only weatherproof lights and other electrical fixtures outdoors
never use light bulbs that are higher than a lamp's maximum wattage
Outlets and extension cords
Overloading an outlet is dangerous. Prevent the dreaded "Octopus Outlet" i.e. don't plug several electrical cords into the same outlet.
Other safety tips to keep in mind include:
avoid plugging more than one appliance into an outlet
don't overload circuits with too many heat generating appliances such as toasters and electric frying pans; they easily overheat the circuit and can catch fire
do not use damaged outlets or anything with a cracked or frayed cord; have them fixed or replaced immediately
never run extension cords under carpets or mats.
do not crimp the electrical cords.
do not clip off the round grounding prong from an electrical plug to make it fit into an outlet
Smoking, candles and other open flames
Smoking
To prevent smoking fires, you must be alert: don't smoke if you are sleepy, have consumed alcohol, drugs or medicine that makes you drowsy. Whenever possible, encourage smokers to smoke outside and give them a safe place to dispose of their butts:
fill a metal container with non-combustible material like sand, pebbles, or water
ask guests not to throw ashes into flower beds or pots
You can prevent house fires caused by smoking if you remember to:
never smoke in bed
check behind chair and sofa cushions for cigarette butts before going to bed if others have been smoking in your home
use large deep ashtrays that cannot be knocked over
empty out ashes into a metal container—not the garbage can—and put it outside
never extinguish cigarettes in plant pots: may contain a mixture of peat moss, shredded wood and bark that can easily ignite
Candles and open flames
House fires are commonly started by candles that have been forgotten or are not being watched. Prevent fires caused by candles and open flames in your home with these tips:
never leave a burning candle unattended including candles on tables, alters and shrines
place candles in sturdy, safe containers that will not burn or tip over
keep candles and open flames at least 30 cm (12 in) from anything that can burn
keep children and pets away from open flames e.g. candles, matches, lighters, BBQ starters, etc.
don't use candles in bedrooms
consider using battery-operated flameless candles: they can look, smell and feel like real candles
blow out all candles when you leave a room or go to bed
Home Escape Planning
Each home should have a home fire escape plan so that everyone knows what to do when the smoke alarm sounds. Sit down with everyone in your household and discuss how each person will get out of the home in a fire.
There are no second chances in a fire.
Making your plan
Discuss with everyone in your home how each person will get out in a fire.
Make sure everyone knows two ways out of each room, if possible. Keep in mind:

if the door of a room is blocked by smoke or fire, discuss an alternate escape route such as a window
all windows need to be able to be opened easily
security bars on windows should have quick-releasing devices so they can be easily removed
storing an escape ladder in your closet can help you easily escape from a two-story home

Determine who's going to help young children, older adults, people with disabilities or anyone else who needs help escaping.
Choose a meeting place outside your home that is a safe distance from your home. A tree, street light or a neighbour's home are all good choices.
Practice your plan
Make sure everyone knows what the smoke alarm sounds like and practice your plan first all together, and then again as a "surprise drill". When doing your drill, focus on these things:
Get out, stay out!
get low and go under the smoke to the nearest safe exit: most fire deaths are the result of smoke inhalation;
never re-enter a burning building;
make sure everyone goes directly to your meeting spot;
call 9-1-1 from outside the home using a cell phone or from a neighbour's home
Every second counts!
Fire and smoke can travel so quickly that despite their best efforts, firefighters may not be able to rescue you or your family if a fire occurs in your home. Test your smoke and carbon monoxide alarms every month so that you are alerted quickly and have time to get out - you need to be out of your home when the firefighters arrive!
Fireplaces and Wood Stove Safety
At the beginning of the season:
have your fireplace, dampers, stove, flue and chimney cleaned and inspected by a qualified professional
make sure the screen or glass enclosure is intact
When lighting a fire:
use only seasoned woods, and avoid soft woods like Pine, etc.
never use a flammable liquid to start a fireplace
never overload the hearth with wood or artificial logs
put all ashes outdoors and away from the house in a metal container
never leave the fire unattended or let it smoulder
Chimney Safety
Creosote build-up is the leading cause of chimney fires. Follow these steps to help prevent creosote from building up in your chimney:
only burn seasoned firewood that has dried for 6 to 12 months
ensure your fire can breathe i.e. has sufficient air flow
build hot fires that burn efficiently instead of slow-burning, smoldering fires
avoid burning artificial logs
warm the flue before lighting a fire if your is on an exterior wall
Farm Fire Safety
Barn fires are devastating for farmers and their livestock. Approximately 40 percent of all barn fires are caused by faulty electrical systems.
Prevent fire on your farm by monitoring and inspecting your buildings and equipment regularly. Here are some additional farm fire safety tips:
have your buildings inspected and maintained regularly by a licensed electrical contractor;
develop a preventative maintenance and housekeeping schedule to reduce the risks of a fire;
monitor the heat conditions of your barn using infrared technologies;
work with your local fire department and insurance company to identify problem areas on your farm, and fix any problem areas identified;
have a plan ready to deal with any emergency;
make sure you have enough fire extinguishers, and that they are in good working order;
train your family and employees on what to do if there is a barn fire. Plan what to do about livestock, who to call and establish a safe meeting point.
Summer Fire Safety
BBQ Safety
Gas BBQs with propane tanks or direct natural gas connections cause numerous burn injuries and fires every year. Use these tips to make sure you are grilling safely.
At the start of the season
CLEAN Use a pipe cleaner or wire to ensure burner ports are free of rust, dirt, spider webs or other debris.
CHECK Examine the hose leading from the tank to the burners. Replace it if cracked or damaged.
TEST Find leaks by applying a 50/50 solution of water and dish soap to propane cylinder connections and hoses. If bubbles appear, tighten the connection and/or replace the damaged parts and retest.
Before you grill
DO NOT place the BBQ close to anything that can burn including:
wooden fences;
wooden walls;
vinyl siding;
other flammable items
DO:
only use BBQs outdoors in a well ventilated space to avoid carbon monoxide build-up
remove grease build-up on the burners or at the base of the BBQ to avoid grease fires
confirm whether you can BBQ on an apartment or condo balcony
While you grill
never leave the BBQ unattended when in use
never throw water on a grease fire; it will make the fire grow and spread
keep loose clothing away from hot BBQs
keep children and pets at least one metre (three feet) away from the hot BBQ
After grilling
When finished barbecuing, turn the gas valve off first, then turn off the burner controls so no gas is left in the connecting hose.
Allow the BBQ to cool completely before closing the cover.
For more information and safety tips about propane barbecues, visit the Technical Standards and Safety Authority website: safetyinfo.ca.
Cottage Fire Safety
Cottage life is no different than home when it comes to fire prevention and safety. To minimize the risk of fire and burn injury, we recommend the following cottage fire safety tips:
Know how to get out and who to call
Develop and practice a home fire escape plan to ensure everyone knows what to do if the smoke alarm sounds.
Know the telephone number for the local fire department and your cottage's emergency sign number, in case of emergency.
When you arrive
Clean the BBQ before using it. Keep an eye on lit barbecues and ensure all combustibles, as well as children and pets are kept well away from them. Fires can happen when barbecues are left unattended. Keep barbecue lighters and matches out of sight and reach of children.
Check heating appliances and chimneys before using them. Don't forget to pack a flashlight with extra batteries!
Check with your local fire department, municipality, or Ministry of Natural Resources to determine whether open air burning is permitted before having a campfire or burning brush. If open burning is allowed, fires should be built on bare soil or on exposed rock. Remove leaves and twigs from around the fire to keep it from spreading. Always keep a bucket of water, sand, or even a shovel close by and supervise the fire at all times.
Only smoke outside and discard butts safely in a large can with water. If you drink, do so responsibly. Tobacco use and excessive alcohol consumption are contributing factors in many fires and can lead to serious injuries.
Burn candles in sturdy candle holders that will not tip and are covered with a glass shade. When you go out, blow out!
RVs, Trailers and Campers
Camping trips can be fire safe for everyone if taking precautions around propane and campfires, especially.
When transporting propane cylinders:
ensure propane cylinders are upright and secure
keep cylinder valves closed and protected
plug or cap cylinder outlets
When using cylinders:
keep them upright and secure on a firm footing
check the cylinder connections and hoses for leaks
keep them away from flame, heat, and exits
Using Propane in your RV or Camper
Propane or natural gas inside your RV or camper requires extra diligence to avoid fires and carbon monoxide poisoning. Make sure you have a carbon monoxide alarm and propane leak detector and only use the stove or oven for cooking; never as a source of heat.
Propane appliances require an adequate supply of fresh air for proper combustion. Ensure your RV or camper is properly ventilated to prevent build-up of carbon monoxide. Also check the outside of the exhaust vents to make sure they are not obstructed in any way.
Barbecue Safety
In addition to all of the BBQ safety rules that you follow at home, make sure that your BBQ is:
on firm, level footing
far from the side of your RV, camper, tent or other combustibles.
Campfire Safety
When cooking outdoors, campfire safety is of the utmost importance. Here are five simple campfire safety tips:
1. Look up and around
Make sure your fire pit is not under any low-hanging branches or near any brush or bushes. Keep a radius of 8 to 10 feet around the fire pit clear of tents, chairs, food and any other debris or obstructions.
2. Safety proof your pit
Clear all debris from around the fire pit, including garbage and grass. There should be a five-foot perimeter of soil around the campfire space.
If there is no metal ring, circle the pit with rocks. If your fire grows in size, this will help keep it within the borders of the fire pit.
Keep any flammable items far from the fire. This includes aerosol cans and pressurized containers.
3. Keep water nearby
Always keep water, dirt or a shovel nearby to help reduce the flames or put the fire out completely if it grows too large. Controlling the fire can be just as important as putting it out.
4. Always watch
Don't get distracted and walk away from the fire; make sure someone always has an eye on the campfire. It's especially important to keep an eye on pets and children that may be sitting or walking near the fire.
5. Extinguish before leaving
Always put the fire out when everyone is leaving the campfire. Throwing water or dirt on the fire is the best way to extinguish a campfire. Then, stir the embers around with a shovel to ensure another fire won't start. Ideally, the coals should be wet and cold.
Marine Fire Safety
Marina fires are violent and devastating events and are difficult and dangerous fires to fight. Rapid extinguishment of marina fires is not likely and oftentimes firefighters can only hope to keep them from growing.
Prevention is the real opportunity to save lives and property and the best way is to educate boat owners so they can recognize marina safety hazards. A marina occupied by knowledgeable and caring occupants will be a safer marina. Of course, common fire prevention tips from home apply on the water, too.
Marina managers are best positioned to provide fire safety information to their tenants through a variety of methods, including classes, newsletters and mailings.
Boat owners must take responsibility for preventing fires on their boat and in the marina. The most common causes of boat fires are:
electrical malfunctions
unattended portable heaters
poor housekeeping
When docking at a marina
check around for fire protective measures such as fire extinguishers, cleanliness, clear dock passageways, security, good lighting, etc. If you don't feel safe, notify the marina staff;
use CSA or ULC marine approved cord sets and connections. Do not hook up if you see burn marks or your cord set will not firmly connect.
routinely replace cord sets. Worn or overloaded cord sets and damaged shore power connections are a common cause of fires.
keep the dock clean and clear. Don't leave engine parts, tools or other equipment on the dock;
never leave operating electrical equipment, including heaters, unattended. When leaving your boat for any reason, turn portable heaters off.
If you see a fire hazard or have concerns, share them with marina management.
Fireproof your vessel
regularly inspect electrical and fuel systems. Have a professional upgrade the wiring to maintain the needs of your navigational equipment and other appliances;
install and regularly test smoke alarms;
plan your escape. Having an escape plan can save your life in an emergency;
have an approved fire extinguisher on board and know how to use it. Fire extinguishers should be mounted near an exit so you are moving toward an exit as you access the extinguisher.
properly dispose of oily rags in a metal container with a tight fitting lid. Leaving oily rags wrapped up in a grocery bag is not safe. The chemicals will begin to break down the rags, causing heat and possibly a fire.
Fire Extinguishers
Coast Guard approved extinguishers required for boats are hand portable, either 5BC or 1OBC classification and have a specific marine type-mounting bracket.
A fire extinguisher you choose must be certified and labeled by the US/CON Coast Guard (for marine use) ULC or UL.
It is recommended the extinguishers be mounted in a readily accessible position, away from the areas where a fire could likely start, such as the galley or the engine compartment.
Visit our home fire equipment page for more information about fire extinguishers.
Lifejackets and Personal Flotation Devices (PFD)
Anytime anyone is boating, there's a chance of falling overboard. More than 90% of boating-related deaths are from drowning and 80% of those victims were not wearing a lifejacket or PFD.
Transport Canada requires a lifejacket or PFD for each person aboard a vessel operating on Canadian waters. Each should be in good condition, of an appropriate size, and readily accessible. For children 12 years old and under, "readily accessible" is defined as wearing it.
Choosing a lifejacket or PFD
Pick a life jacket or PFD that fits you and fits the type of boating you will be doing. Always check the labels to make sure it is Canadian approved and keep in mind that lifejackets offer a higher level of protection than PFDs.
Inflatable PFDs are not approved for:
Anyone under 16 years old
Anyone who weighs less than 36.3 kg (80 lbs)
Use on a personal watercraft
Caring for your lifejacket or PFD
For your device to work, it has to be kept in good condition. Follow these tips:
always air-dry your PFD thoroughly before stowing it
check it twice a year for mildew, leaks, insecure straps, or hardened stuffing
For information on marine-type fire extinguishers and personal flotation device requirements visit the Government of Canada Boating Safety website.
Winter Fire and Ice Safety
Christmas tree safety
Christmas trees cause numerous house fires each year and should be carefully chosen and maintained. Follow these rules to help prevent holiday fires:
make sure your natural Christmas tree is fresh when you bring it home
water your natural tree regularly to prevent it from becoming dry and more flammable
never burn your Christmas tree in a fireplace or woodstove
place your tree at the curb during the dedicated curbside pick up dates on the City waste calendar
look for a "Fire Resistant" label when purchasing an artificial tree
Holiday lights and decoration safety
When decorating your home for the holidays, keep these safety tips in mind:
only use CSA approved lights for both indoor and outdoor decorating
make sure electrical cords are in good condition
never plug more light sets end to end than is listed on the manufacturer's recommendation
turn all lights off before going to bed or leaving the house
plug all decorative lights and electric decorations into electrical circuits protected by a ground fault circuit interrupter (GFCI)
keep the tree and all decorations away from open flames such as candles and fireplaces
Holiday entertaining safety
Fires can start easily when we are distracted by cooking and company. During the holidays, remember to:
test your smoke and carbon monoxide alarms
practice your home escape plan
stay in the kitchen while cooking
keep matches and lighters away from children
Ice safety
No ice is safe ice and conditions can change in an instant. Obey warning messages and stay off frozen waterways if possible. Always check with local authorities before heading out and never go out alone on ice at night.
Signs to look for before going out on the ice:
Ice colour
The colour of ice may be an indication of its strength:
clear blue ice is strongest
white opaque or snow ice is half as strong as blue ice
grey ice means there is water and is unsafe
Ice thickness
Measuring the ice is safer than relying on the colour. Minimum thickness should be:
15 cm for walking or skating alone
20 cm for skating parties or games
25 cm for snowmobiles
When You Are Alone on Ice
If you get into trouble on ice and you're by yourself:
Call for help.
Resist the immediate urge to climb back out where you fell in. The ice is weak in this area.
Try to relax and catch your breath. Turn yourself toward shore so you are looking at where you entered onto the ice. The ice is more stable close to shore.
Reach forward onto the broken ice without pushing down. Kick your legs to try to get your body into a horizontal position.
Continue kicking your legs, and crawl onto the ice.
When you are back on the ice, crawl on your stomach or roll away from the open area with your arms and legs spread out as far as possible to evenly distribute your body weight. Do not stand up! Look for shore and make sure you are crawling in the right direction.
When You Are with Others on Ice
Rescuing another person from ice can be dangerous. The safest way to perform a rescue is from shore by following these steps:
Call for help. Consider whether you can quickly get help from trained professionals (police, fire fighters or ambulance) or bystanders.
Check if you can reach the person using a long pole or branch from shore – if so, lie down and extend the pole to the person.
Then, if you do need to go out onto the ice to help someone in trouble:
Wear a PFD and carry a long pole or branch to test the ice in front of you. Bring something to reach or throw to the person (e.g. pole, weighted rope, line or tree branch).
When near the break, lie down to distribute your weight and slowly crawl toward the hole.
Remaining low, extend or throw your emergency rescue device (pole, rope, line or branch) to the person.
Have the person kick while you pull them out.
Move the person to a safe position on shore or where you are sure the ice is thick. Signal for help.
Removing snow for safety
Snow and ice can make an emergency situation worse in the winter if it blocks your escape, covers an exhaust vent, or has buried the fire hydrant. Stay safe during the winter by:
keeping all entry/exit areas of your home clear from snow so that you can get out in case of a fire
opening windows regularly to make sure they are not frozen shut if you need them as an escape route
clearing snow and ice from your exhaust vents to prevent dangerous carbon monoxide levels
shoveling around the closest fire hydrant as a courtesy to the fire department: a three m radius around the hydrant can save the firefighters valuable time if there is a fire on your street