Carbon monoxide is a toxic gas referred to as the "silent killer" because it is:
colourless
odourless
tasteless
Breathing carbon monoxide is dangerous. It affects your blood's ability to get oxygen to your body. If you are exposed to a high concentration of carbon monoxide, you may develop carbon monoxide poisoning which can lead to loss of consciousness, brain damage and even death.
Symptoms of carbon monoxide poisoning
Signs that you have been exposed to carbon monoxide and may have carbon monoxide poisoning include flu-like symptoms such as:
headaches
nausea
dizziness
confusion
drowsiness
What causes carbon monoxide?
Carbon monoxide is produced when devices and appliances don't fully burn their fuels. It can come from anything in your home that uses:
propane
wood
heating oil
natural gas
charcoal
kerosene
gasoline
When these devices or appliances are used and installed properly, carbon monoxide gas will be vented to the exterior of your home.
Problems happen when carbon monoxide can't escape and levels become too high. Common reasons for these unsafe levels include:
running a vehicle in an attached garage
operating a gas barbecue indoors
clogged or dirty chimneys and vents
portable heaters improperly vented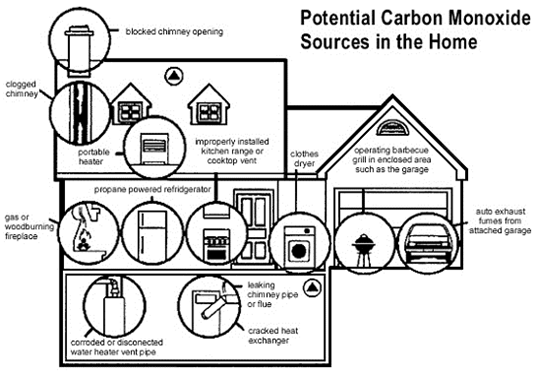 Danger signs of carbon monoxide
If you or a member of your household experience any of the symptoms listed above, you may have been exposed to too much carbon monoxide. Other signs to look for include:
a gas smell like rotten eggs inside your home
chalky white powder accumulation around vents and pipes
soot build-up around exhaust vents
How can I detect unsafe levels of carbon monoxide in my home?
Only working carbon monoxide alarms, properly installed in your home, will provide you with an early warning of unsafe levels of carbon monoxide in your home.
Where should I install carbon monoxide alarms?
A carbon monoxide alarm is required by law to be installed on every level containing sleeping rooms if your home has:
any fuel-fired appliances (natural gas, propane, fuel oil, wood); and/or
an attached garage
When installing your carbon monoxide alarms, you should:
put one on every floor where people sleep
put it close enough to the sleeping rooms to be able to wake you up
install more than one if sleeping rooms are at separate ends of the building
plug it in an electrical outlet or install it on the ceiling like a smoke alarm
always follow the manufacturer's instructions
What should I do if my carbon monoxide alarm activates?
Never assume it is a false alarm. Remember, carbon monoxide is colourless, odourless and tasteless.
If your carbon monoxide alarm activates and anyone in your home has symptoms:
evacuate your home and call 911 from a safe location
do not re-enter your home until advised it is safe to do so
contact your gas utility if there is also a smell of natural gas or propane (rotten egg smell)
If the alarm activates and no-one has any symptoms:
check to see if the battery needs replacing or the alarm has reached its "end-of-life"
if the alarm is not sounding for those reasons, call 9-1-1
Testing your alarm
To make sure you will be alerted if you have too much carbon monoxide in your home, follow these rules when testing your alarm:
test your alarm every month (or according to the manufacturer's instructions)
replace the batteries once a year or when the low-battery warning sounds
know what your alarm sounds are for low-battery warning, end-of-life warning, and an emergency alarm by reading the manufacturer's instructions
Landlords and tenants
Landlords:
Landlords are responsible to ensure working carbon monoxide alarms are installed and maintained in their rental properties.
The law requires landlords to test CO alarms in rental units annually and when the battery is replaced, changes are made to the electric circuit or a change in tenancy occurs. CO alarms must be tested by pressing the test button. Tenants must provide CO alarm manufacturer's maintenance instructions to tenants.
Tenants:
The law requires tenants to notify the landlord if the CO alarm is inoperable. It is against the law for tenants to remove the batteries or tamper with the alarm in any way.
Additional safety tips
Prevention is the key to saving lives. Carbon monoxide alarms are the second line of defence in the fight against carbon monoxide poisoning.
Be sure your carbon monoxide alarm has been certified to the Canadian Standard Association (CSA) CAN/CGA 6.19 standard or the Underwriters Laboratories (UL) 2034 standard.
Regularly maintained appliances that are properly ventilated should not produce hazardous levels of carbon monoxide.
Have a qualified service professional inspect your fuel burning appliance(s) at least once per year.
Have your chimney inspected and cleaned every year by a W.E.T.T. certified professional.
Visit the Technical Standards and Safety Authority website for more heating safety information.